eduroam
eduroam (education roaming) is a secure way to access the internet worldwide for the international research and education community. Students, researchers and staff of participating organisations can use it to access the internet on their own campus, when visiting other universities and at thousands of public hotspots around the world.
eduroam offers easy-to-install profiles for all common devices and operating systems. Data sent via its encrypted network is not visible, which guarantees users maximum security at all times.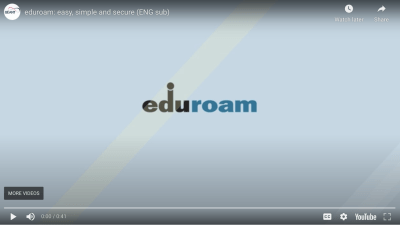 eduroam with Switch edu-ID
In the classic federal approach, institutions operate their own identity service (IdP, Radius Server) to authenticate their employees. This is not necessary at universities thanks to how widespread the edu-ID has become. Users create an eduroam profile with their Switch edu-ID, which is then authenticated with a central IdP. This reduces a great deal of the costs for universities.
eVA – eduroam Visitor Access
eVA also offers a practical solution for guests who don't have their own eduroam profile. Guests can register with their own mobile phone for limited-time access when visiting your campus. eVA offers other options to enable guests to access the network, such as personal invitations, group invitations or event passwords. Employees of participating institutions can register with their Switch edu-ID on the eVA portal to send independent invitations.
Secure network access
The most up-to-date protocols and standards – WPA2/3-Enterprise, EAP-TLS – ensure a secure connection to the network.
Flexible options for participation
Institutions and hotspot providers can choose from a variety of ways to participate - whatever suits their personal situation.
A worldwide solution
eduroam has no limits – eduroam hotspots can be found in over 100 countries.
Christian Rohrer
Product Manager
Switch